New Clinical, Financial Opportunities for Labs!
Learn what's new, what's working and how to lead your lab to success.
The Executive War College is your place to learn, network, and succeed. See, hear, and meet leaders of the nation's most innovative labs as they share how they add value to improve patient outcomes while encouraging health insurers to pay them for this value.
This conference will help you and your team learn how you can:
tap new sources of revenue

generate more revenue from your lab's test claims

cut costs in your lab
save money in your lab
provide state-of-the-art diagnostic services
identify the new needs of physicians, patients, and hospitals
and more.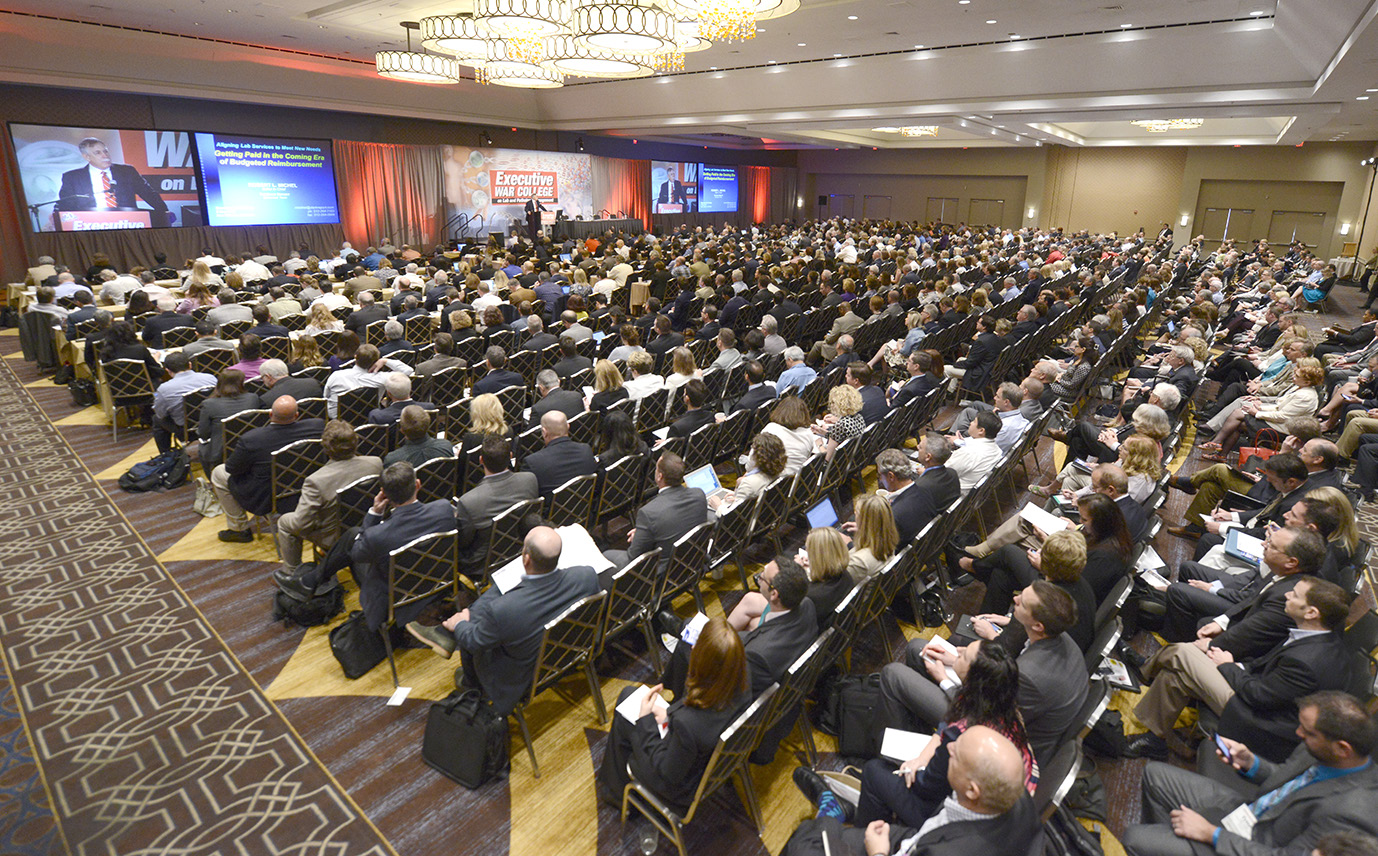 Important 2022 Topics Included:
New Opportunities to Increase Your Lab's Revenue
Decrease costs, increase revenue by repurposing PCR automation for other infectious disease tests.

Why the pandemic made many consumers ready to use at-home tests and how your lab can tap that demand.

Biomarkers and big data in cancer care: ways clinical and genetic testing labs can contribute value in diagnostic, therapeutic, and patient monitoring decisions.
How savvy hospital lab outreach programs leverage data to win new clients, expand their market share, and generate more revenue.


Managed Care Contracting, Lab Legal, and Compliance
Why the "No Surprises Act" is reducing income for pathologists and clinical labs.

New trends in managed care credentialing that can benefit labs.

Effective ways to help patients with "Benefits Investigation" of expensive genetic tests.
Best ways to protect against encryption attacks and ransomware demands that target hospitals, labs, and pathology groups.
Opportunities for labs to help self-insured employers address "presenteeism" and improve employee productivity.
Artificial Intelligence Solutions Your Lab Can Deploy Today
FDA-cleared AI digital pathology image analysis for detecting cancer.

AI to streamline core lab workflow, fix sources of systemic errors.

AI tools for accurate, complete patient ID in lab service centers.
Using AI to spot patient trends within physician practices, then guide physicians to improve patient care.
Scaling up next-generation sequencing tests with use of AI.
Easy and affordable ways for pathology groups to go "all digital" with images, pathologist workflow, and billing.
"Robert Michel and his team do a fantastic job organizing a conference that provides a great mix of thought-leadership sessions on market trends and in-depth master classes with exceptional speaker lineups. It is a great event and highly recommended for learning, networking, and meeting new people from Lab Industry."
"If you want to attend a meeting and go home with new ideas, a fresh perspective, and an understanding of new solutions on the market to meet common challenges you face in the laboratory, this is a meeting for you."
"There is no other conference in the medical laboratory industry that provides such quality educational and networking opportunities like Executive War College. The exceptional speakers range from senior leaders providing strategic market analysis to individual contributors who share their best practices in project execution."
Innovative strategies & ideas
for your lab and pathology group to provide state-of-the-art diagnostic services, expand market share, and tap new sources of much-needed revenue for 2022 and beyond!


Top-flight sessions and speakers
delivering content designed exclusively for laboratory and pathology executives and their teams, including information-packed sessions and special events like extended roundtables


Discuss, debate, and network
for two full days at a gathering of the best and brightest in our profession so that you get as much value from networking opportunities as you do from the top-flight sessions and speakers


Team-building opportunity
to learn together and then implement the techniques, strategies, and information you've gained upon your return to your organization



Case studies and lessons learned
from those labs that have identified the new needs of physicians, patients, and hospitals and are now delivering relevant lab testing services while generating new sources of revenue


Unquestionably the smartest investment
you'll make for your lab, this conference will quite possibly transform the way your lab does business!



Clinical Laboratory Managers
Pathology Group Managers
In Vitro Diagnostics (IVD)
Lab Sales Managers
Lab Analysts
Lab Investors